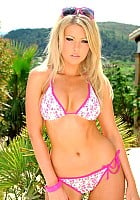 Staci Noblett
Rollover to rate this babe
Staci Noblett biography
Birthdate: Sunday 27th of November 1988
Age: 24 years young
Birthplace: Manchester, England, United Kingdom
Nationality: British
Ethnicity: Caucasian
Profession: Centerfold
Hair: Blonde
Eye color: Blue
Height: 5'4" (or 162 cm)
Body type: slim
Measurements: 32DD-24-32
Boobs: real/natural
Tattoos: None
Piercing(s): Yes, navel

Staci Noblett is a British glamour model. She started modeling in 2009 after winning a competition for a national newspaper, and signed with a London agent. At the time she was studying business law at a university in Lancashire.
Official Website:
http://www.officialstacinoblett.com/
Staci Noblett galleries
Staci in an and out of an aqua bikini
Staci on a stairway
Staci in her naval outfit
Staci in and out of a pink bikini
Staci in and out of a pink teddy
Staci out in the country
If you want to see more of Staci Noblett on Babepedia, you can add her to your requests by click this link:

13 users have her on their requests list.
User Uploaded Photos Of Staci Noblett
User links
Staci Noblett videos
No videos yet.
User comments
Aclohol Funnycars, you, my friend, are a smart man!
Posted by Hemlock | 2012-10-29 11:56:43 (Report)
not bad, but ive seen hotter.
Posted by jonathan on gallery 369984 | 2012-09-04 11:49:34 (Report)
Would like to suck her...
Posted by anonymous on gallery 369984 | 2012-07-29 16:00:21 (Report)
Learning a ton from these neat acritles.
Posted by Charlotte on gallery 369985 | 2011-12-30 02:40:38 (Report)
I did miss the "full" nudity a litle bit in those galleries, but she is lovely. She can get in some good, lucrative years as a nude model if she chooses.
Posted by jackinthebeanstalk | 2011-02-23 13:39:26 (Report)
This beautiful woman is proof that Page 3 babes are consistantly
hotter than Playboy cyber-babes, and most Playmates.
Posted by Alcohol Funnycars on gallery 370027 | 2011-01-14 16:25:26 (Report)
Would love to have her ride around on me!!
Posted by anonymous on gallery 370027 | 2011-01-05 22:46:37 (Report)
This woman is amazingly gorgeous. Luscious breasts--love 'em!!
Posted by anonymous on gallery 370027 | 2011-01-04 22:47:11 (Report)
fucking sexy

Posted by anonymous on gallery 370027 | 2011-01-04 05:31:54 (Report)
Staci i wanna massage, suck and fondle your sexy titties.
Posted by anonymous on gallery 370027 | 2011-01-04 04:28:59 (Report)
Gorgeous eyes, face, smile, hair, breasts, nipples, legs, everything!! She is just simply gorgeous!!!! Bravo!
Posted by anonymous on gallery 370005 | 2010-12-30 22:45:07 (Report)
Beautiful eyes, face, and smile too!!
Posted by anonymous on gallery 370005 | 2010-12-29 22:46:39 (Report)
Babe categories
Blonde - Natural Breasts