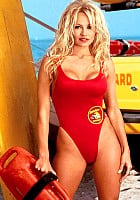 Pamela Anderson
aka Pamela Denise Anderson / Pamela Anderson Lee / Pamela Lee
Rollover to rate this babe
Pamela Anderson biography
Birthdate: Saturday 1st of July 1967
Age: 45 years young
Boobs: fake/enhanced
Achievements:
Pamela Denise Anderson (born July 1, 1967) is a Canadian-American actress. She is a famous glamour model, producer, author, activist, and former showgirl, known for her roles on the television series Home Improvement, Baywatch, and V.I.P.

She was chosen as a Playmate of the Month for Playboy magazine in February 1990. For a time, she was known as Pamela Anderson Lee (or Pamela Lee) after marrying Mötley Crüe drummer Tommy Lee. She holds both American and Canadian citizenship.

Anderson was born in Ladysmith, British Columbia, the daughter of Carol, a waitress, and Barry Anderson, a furnace repairman. Her great-grandfather, Juho Hyytiäinen, was Finnish, a native of Saarijärvi, and left Finland in 1908, changing his name to Anderson when he arrived as an immigrant. Pamela Anderson has Russian ancestry on her mother's side.

The newborn Anderson won fame as Canada's "Centennial Baby", because she was thought to have been the first baby born on Canada's Centennial Day (she was born at 4:08 in the morning). However, the Campbell River Upper Islander of July 5, 1967 reported a baby born two hours earlier on the same Canada Day.

After graduating from Highland Secondary School in 1985, Anderson moved to Vancouver and worked as a fitness instructor. During the summer of 1989, Anderson went with her friends to a BC Lions game at BC Place; during the game she was shown on the stadium screen wearing a Labatt's t-shirt, causing the crowd to cheer for the 21-year-old Anderson. She was taken down to the field to receive an ovation from the crowd. Labatt's immediately offered Anderson a modeling contract and she accepted. In late 1989, Anderson decided to model for Playboy magazine. She first appeared as their October 1989 cover girl. At this stage in her modeling career, she had decided to live in Los Angeles to further pursue her career ambitions. She became a centerfold for Playboy when the magazine chose her to be their Playmate of the Month for their February 1990 issue. She then chose to get breast implants. Anderson has since appeared in Playboy several times in the 1990s and the following decade.

After her move to Los Angeles, she won a minor role as the original "Tool Time girl" on the hit television sitcom, Home Improvement. She left the show after two seasons and won the role of C. J. Parker on Baywatch. Anderson was still modeling for Outdoor Life and appearing on the cover of the magazine each year.

In 1996, she acted in the film Barb Wire playing Barbara Rose Kopetski, which was thought by some to be Anderson's real name. The movie, a thinly-veiled futuristic remake of Casablanca, was not a commercial success. In April 1997, she guest-hosted Saturday Night Live. She also appeared on one of two covers for the September issue of Playboy.

In September 1998, Anderson starred as Vallery Irons in the Sony Pictures Entertainment hit syndicated show V.I.P. created by J. F. Lawton. Blending action and humor in a fast-paced adventure series, with Anderson often poking fun at her tabloid image, the show explored the exciting and sometimes treacherous lives of the rich and famous. The series lasted through a successful four year run.

In 1999, she appeared as a giantess in the music video for "Miserable" by California alternative rock band Lit.

Her role as C.J. Parker gave her more popularity and gained her attention from international viewers. She returned to Baywatch for the 2003 reunion movie, Baywatch: Hawaiian Wedding. She also appeared on The Nanny as Fran's rival, Heather Biblow.

In 2004, Anderson returned to the spotlight. In May, she appeared naked on the cover of Playboy magazine. It was the first time she had appeared naked on any magazine cover. Later, she posed naked for Stuff and GQ magazines.

Anderson became a naturalized citizen of the United States on May 12, 2004, while retaining her Canadian citizenship. She has lived in Southern California since 1989.

In 2004, she released the book Star, co-written by Eric Shaw Quinn, about a teenager trying to become famous. After this, she began touring the United States, signing autographs for fans at Wal-Mart stores nationwide. Her second book, the sequel Star Struck, released in 2005, is a thinly veiled look at her life with Tommy Lee and the trials of celebrity life.

In April 2005, Anderson starred in a new Fox sitcom Stacked as Skyler Dayton, a party girl (with implants), who goes to work at a bookstore. It was canceled on May 18, 2006, after two seasons, although some episodes had not been aired. On August 14, 2005, Comedy Central created the Roast of Pamela Anderson to honor the sex symbol for the past decade. During her final speech at the Roast, Anderson referred to her breasts as "Pancho and Lefty".

In December 2005, NBC cut off a video of Anderson pole dancing topless on Elton John's "The Red Piano." NBC said that the footage was inappropriate for primetime. The video was shown on huge screens during the event, while John played "The Bitch is Back".

In March 2006, it was announced that Anderson would receive a star on Canada's Walk of Fame thanks to her many years as a model and actress. She is only the second model to receive a star. In April 2006, Anderson hosted Canada's Juno Awards, becoming the first non-singer and model to do so.

Anderson was repeatedly referenced in the 2006 comedy film Borat: Cultural Learnings of America for Make Benefit Glorious Nation of Kazakhstan as the title character seeks to kidnap and marry her. Anderson appears in person at the end of the film confronted by Borat in a staged botched abduction.

She performed on February 13–14, 2008 in a Valentine's Day striptease act at the Crazy Horse cabaret in Paris.

On July 9, 2008, Anderson entered the Australian Big Brother house for a three-day visit. Her appearance on this show also marked Anderson's foray into reality television with a series of her own, Pam: Girl on the Loose, which debuted on August 3, 2008 on E! in the United States.

In December 2009, Anderson guest-starred as Genie of the Lamp in the pantomime Aladdin at the New Wimbledon Theatre in Wimbledon, south-west London, England. Anderson took over the role from comedienne Ruby Wax, with former EastEnders actress Anita Dobson and comedian Paul O'Grady also booked for the role.

Also known as: Pamela Anderson Lee
Born: July 1, 1967 (age 45)
Ladysmith, British Columbia, Canada
Ethnicity: Caucasian
Nationality: Canadian, American
Body
Measurements: 36"-22"-34"
Bra/cup size: E (same as DD cup)
Boobs: Enhanced
Height: 5 ft 7 in (1.70 m)
Weight: 105 lb (48 kg)
Body type: Slim
Eye color: Blue
Hair: Blonde


Official Website:
http://www.pamelaanderson.com/
Pamela Anderson galleries
Pamela Anderson takes a swim in the Pacific Candids
If you want to see more of Pamela Anderson on Babepedia, you can add her to your requests by click this link:

13 users have her on their requests list.
User Uploaded Photos Of Pamela Anderson
User links
Pamela Anderson videos
No videos yet.
User comments
very, most of them are too superficial and busy to hold a linsatg relationship. more celebs on average have gotten a divorce and remarried than non celebs
Posted by Cida on gallery 170 | 2012-09-29 22:57:21 (Report)
Pamela is a goddess. Since childhood I have dreamed at least for a moment to be near her
Posted by Kurva on gallery 170 | 2012-06-15 06:48:25 (Report)
Why do people watch train wrecks? Why is the "Saw" film franchise so successful?
Apparently people like to witness things and people getting chingaderas... er, fucked-up.
TMZ loves this woman, and at no time did I claim that I dislike her, however, I too expected better, much, much better.

Posted by Yonkers Yankee on gallery 170 | 2011-03-18 17:13:26 (Report)
Because we hoped she'd look better?
Posted by anonymous on gallery 170 | 2011-01-08 21:27:37 (Report)
Overrated. Just astonishing that she got so far in entertainment.
Posted by jackinthebeanstalk | 2011-01-05 04:26:46 (Report)
if you dont like pamela anderson then why are you looking at her pics?
Posted by inquisitor on gallery 170 | 2010-11-07 23:31:05 (Report)
If this attractive woman had maintained a lower profile in her career
and exercised more discretion in her private life, she might be maturing
more gracefully than she is now. But NO, she had to be a legend in her own mind!
Now she is reduced to the status of 'Cannon
Fodder' on almost every "Comedy Central Celebrity Roast". And to think...
I used to enjoy watching the movie "Barb Wire"!
Posted by Yonkers Yanker on gallery 170 | 2010-09-01 22:41:53 (Report)
pamela is a sexy woman! now and 4ever!
Posted by Sonic | 2009-09-30 07:48:18 (Report)
pamela is a sexy woman! now and 4ever!
Posted by Sonic | 2009-09-30 07:48:16 (Report)
You know Pamela is and will always be recognized as one of the most erotic and beautiful women in the world. She has graced the pages of countless magazines, and I for one will admit, I've not only read the articles, but enjoyed the pictures too. Ms. Anderson I don't know if you'll ever read this, but if do by chance. I am a fan, so don't ever stop being who you are. I Love you Pam.
Posted by Scottsman on gallery 170 | 2009-08-08 10:23:57 (Report)
Meh, Pam Anderson is way way overrated!!! she's gross too!
Posted by anonymous on gallery 170 | 2009-06-28 19:39:37 (Report)
What a shame.....she was once a real beauty.
Posted by gks68 | 2009-06-14 15:32:04 (Report)
ten years ago she was red hot but she is more a slut now. a couple more years and she will be screwing for cash at the pussy ranch
Posted by anonymous | 2008-09-03 01:02:39 (Report)
pammy always 1st!!!
Posted by alparal | 2008-03-18 17:23:36 (Report)
More of Pamela Anderson at the PlayBoy site: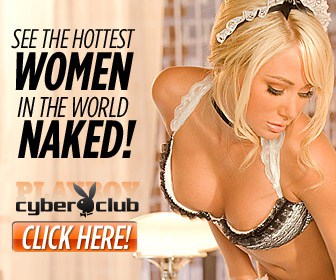 Babe categories
Blonde - Playboy Playmate - Celebrity - Big Breasts - Fake Breasts