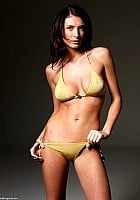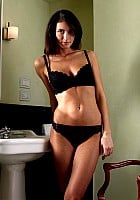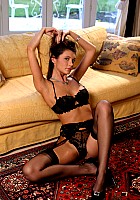 Orsi Kocsis
aka Claudia / Kimberly Zeller / Klaudia / Orsi / Orsolya / Orsolya Kocsis / Oshi / Sika
Rollover to rate this babe
Orsi Kocsis biography
Birthdate: Thursday 6th of September 1984
Age: 28 years young
Birthplace: Debrecen, Hungary
Profession: model
Hair: Brown
Eye color: Green
Height: 5'9" (or 175 cm)
Weight: 123 lbs (or 56 kg)
Measurements: 36C-25-35
Boobs: real/natural
Trivia

Her Hungarian name day is Orsolya (October 21), giving her name day as: Kocsis Orsolya.

Hungarian Playboy Playmate of the Year 2005. She has also been featured as a cover girl on Maxim, CKM and Penthouse. The Hungarian edition of Playboy featured her as the cover model for a second time in June 2010.
Official Website:
http://www.kocsisorsi.hu
Twitter:
@OrsiKocsis
Facebook:
http://www.facebook.com/pages/Orsi-Kocsis/109579705728257
If you want to see more of Orsi Kocsis on Babepedia, you can add her to your requests by click this link:

19 users have her on their requests list.
User Uploaded Photos Of Orsi Kocsis
User links
Orsi Kocsis videos
No videos yet.
User comments
"Absolutely perfect. The smooth sweep of natural boobs is incredible. she has such perfect perky nipples surrounded by those small areolas. I love how her nipples point upwards, and the full lower sections of her boobs. absolutely the finest breasts i have ever seen. quality like that cannot be duplicated by plastic surgery." I can see you're a man of impeccable taste in women and tits. Your eloquent description of Orsi Kocsis' tits actually does them justice...and that's saying a lot. Her tits are so perfect, her face is so gorgeous, and her curvy hips so flawless, that I can actually taste how delicious her pussy is, just by looking at her. Her beauty is so miraculous, I'm certain that the sheer beauty of Orsi Kocsis can one day end warfare on planet Earth forever, and make all of mankind happy just eating, drinking, sleeping and fucking...we'd be back to the blissful Garden of Eden if we could somehow clone Orsi Kocsis and distribute the Orsi clones to every man on the planet. It's a workable solution for world peace, seriously, think about it... -C. A. Owens
Posted by OrsiKocsisClones=WorldPeace | 2012-08-11 03:02:02 (Report)
This woman is supersexy. I wish I was her boyfriend so we can, like, have sex with each other every day.
Posted by Chris the Hottie | 2012-07-16 16:54:48 (Report)
holy shit she is seriously cute. cute face, lovely tits. don't know about you but i'm moving to hungary!
Posted by mrbubbles68 | 2010-12-27 13:34:11 (Report)
number of one
Posted by umt | 2010-07-19 19:29:37 (Report)
Sandra Shine is soo 6 years ago... Orsi Kocsis is my new SHINE !!
Posted by kingmob | 2010-06-23 22:58:49 (Report)
this is perfection. here in Hungary we have the most beautiful women all over the world
Posted by anonymous | 2010-06-07 17:20:54 (Report)
Absolutely perfect. The smooth sweep of natural boobs is incredible. she has such perfect perky nipples surrounded by those small areolas. I love how her nipples point upwards, and the full lower sections of her boobs. absolutely the finest breasts i have ever seen. quality like that cannot be duplicated by plastic surgery.
Posted by X | 2010-03-07 12:24:29 (Report)
Wow, what a pretty lady!
Posted by gks68 | 2009-07-05 19:29:14 (Report)
She is one of my favourite girls- I always try and post her on my site.. She just looks like there is so much going- on in there, not just tits 'n' ass liek some models...
Posted by Arseman | 2008-10-07 10:52:44 (Report)
Torchwood clearly has no taste anyway considering the dreadful TV show he's named after.
Posted by Steve | 2008-09-29 13:27:40 (Report)
Babe categories
Brunette - Celebrity - Natural Breasts