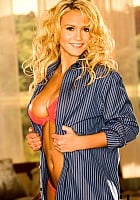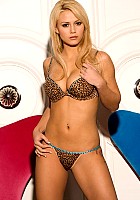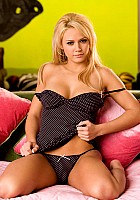 Lindsay Wagner
Rollover to rate this babe
Lindsay Wagner biography
Birthdate: Monday 14th of March 1988
Age: 25 years young
Birthplace: Omaha, Nebraska, United States
Ethnicity: White
Profession: Centerfold
Hair: Blond
Eye color: Brown
Height: 5'8" (or 172 cm)
Weight: 120 lbs (or 54 kg)
Body type: slim
Measurements: 34DD-27-34
Bra/cup size: 34E (75E)
Boobs: real/natural
Achievements:
Lindsay Elizabeth Wagner (born March 14, 1988 in Omaha, Nebraska) is an American model who is a Playboy Playmate for November 2007. Her centerfold was photographed by Stephen Wayda. She is a former ring gal for Omaha Fight Club. She graduated from Omaha Bryan High School in 2006.
Official Website:
http://www.myspace.com/lindsayw06
Lindsay Wagner galleries
Lindsay Wagner Playboy Playmate November 2007
If you want to see more of Lindsay Wagner on Babepedia, you can add her to your requests by click this link:

12 users have her on their requests list.
User Uploaded Photos Of Lindsay Wagner
User links
Lindsay Wagner videos
Playboy Playmate Lindsay Wagner
Playboy Playmate Lindsay Wagner
User comments
Same name as the actress who played the Bionic Woman & this lady also looks rather superhuman in the beauty department. The Playboy galleries are about 5 years ago - she could still do very well in solo nude modeling if she looks beyond Playboy.
Posted by jackinthebeanstalk | 2012-11-11 20:00:49 (Report)
Eres una lindura de mujer contigo haria el amor todo el dia.
Posted by antonius bon on gallery 370574 | 2012-10-11 17:05:09 (Report)
So gorgeous!!! What an amazing body!! Love those breasts and nipples. Love that ass! Love those legs, and her pretty face! Would love to caress that ass, suck and fondle those awesome breasts!! Would love to find out what she keeps between those toned, sexy thighs!!!! Awesome!!!
Posted by anonymous on gallery 370574 | 2012-10-03 14:47:58 (Report)
pic 11. I want her in my closet. Pull down those panties and give her what she needs. A red ass from a hard spanking.I will pinch those nipples hard and slam those cans together until the nips are red and hard. I will suck those nips soft again. I fucking need to bang her
Posted by hey Big John on gallery 370574 | 2012-09-15 13:04:06 (Report)
What a beautiful nipple! I want to suck it and fxxk her.
Posted by Big John on gallery 370574 | 2012-08-27 01:58:55 (Report)
very nice.
Posted by oo | 2012-08-27 01:53:10 (Report)
Unbelievable Face and body
Posted by HottyvsHotty | 2012-08-06 15:30:54 (Report)
Playboy always knows how to work the photoshop. Lovely, sexy pics.
Posted by anonymous on gallery 370574 | 2012-07-27 15:18:38 (Report)
Gorgeous breasts-would love to see them released into the wild!!
Posted by anonymous on video 217 | 2012-07-16 23:12:29 (Report)
τελεια. Απιστευτη. We love her. Αs we say in GRΕΕCΕ: απλα μουνάρα
Posted by greece above all on gallery 370574 | 2012-07-11 10:22:15 (Report)
Totally gorgeous!!! Gorgeous eyes, hair, and face. Gorgeous breasts and nipples! Gorgeous cleavage. Arms, shoulders, back-all gorgeous. Gorgeous thighs and legs. Super-gorgeous ass!! WOW!!!!
Posted by anonymous on gallery 370574 | 2012-06-06 16:12:16 (Report)
i would never get off of top of her
Posted by anonymous on gallery 370574 | 2011-08-17 06:16:02 (Report)
Lindsay you can be my bionic woman everyday . Let's get together and make some bionic babies. !!!!!
Posted by anonymous on gallery 370574 | 2011-08-17 04:31:04 (Report)
Lindsay I would love to suck your sexy titties as I am fucking my cum into your pussy.
Posted by anonymous | 2011-01-02 09:03:56 (Report)
More of Lindsay Wagner at the PlayBoy site: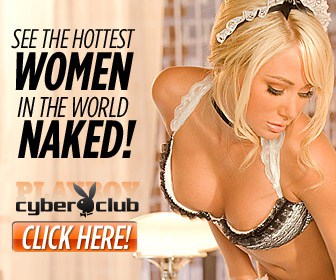 Babe categories
Blonde - Playboy Playmate - Celebrity - Big Breasts - Natural Breasts