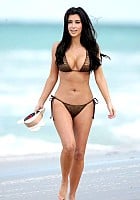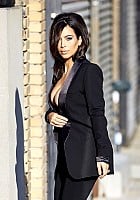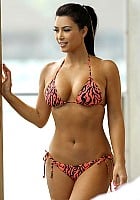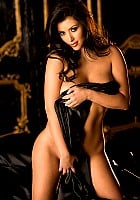 Kim Kardashian
aka Kimberly Noel Kardashian
Rollover to rate this babe
Kim Kardashian biography
Birthdate: Tuesday 21st of October 1980
Age: 33 years young
Birthplace: Los Angeles, California, United States
Nationality: American
Ethnicity: Armenian, Dutch, Scottish
Profession: Adult Model
Hair: Brown
Eye color: Black
Height: 5'3" (or 160 cm)
Weight: 119 lbs (or 54 kg)
Body type: average
Measurements: 34D-26-39
Bra/cup size: 34D (75D)
Boobs: real/natural
Kimberly Noel "Kim" Kardashian (born October 21, 1980) is an American socialite, television personality, model and actress. She is best known for her social life and her role on the E! reality show Keeping Up with the Kardashians.
Kardashian is of Armenian (father), Scottish and Dutch (mother) descent, the daughter of attorney Robert Kardashian and Kris Jenner (née Houghton). Robert Kardashian, best known for being O. J. Simpson's lawyer during his murder trial, died on September 30, 2003. Her mother, Kris, divorced Robert in 1989, and married former Olympian Bruce Jenner in 1991.

Kardashian has two sisters, Kourtney and Khloe, and one brother, Robert. She also has stepbrothers Burton Jenner, Brandon Jenner, and reality TV star Brody Jenner, stepsister Casey Jenner, and half-sisters Kendall and Kylie Jenner. O. J. Simpson is Kardashian's godfather.

While attending high school, Kardashian worked at her father's music marketing firm, Movie Tunes.
Her first acting role was in the television series Beyond the Break. She then starred in the 2008 film Disaster Movie as Lisa, alongside Carmen Electra and Vanessa Minnillo. The film, which spoofed disaster films, received negative reviews and had mild success at the box office. At the end of December 2008, after its DVD release, the movie was rated the second worst film ever made at the Internet Movie Database. Kardashian also appeared in an episode of How I Met Your Mother entitled "Benefits".

Kardashian has done many small modeling jobs on the side of her television career. Kardashian posed nude for the December 2007 issue of Playboy magazine. In February 2008 Bongo Jeans announced that Kardashian would be their new face model. Kardashian is also a model for Travis Barker's Famous Stars and Stripes clothing line. Kardashian is one of the stars of the reality television series Keeping Up with the Kardashians along with her two sisters, mother, brother, half-sisters, and stepfather.
Kardashian at the 2009 premiere of Wonderful World.

On May 2, 2008, Kardashian released a workout DVD, Workout with Kim Kardashian, and a set of workout cards with the help of trainer Kathy Kaehler. In July 2008, Kardashian announced on her personal blog that she is working on her own perfume line to be released in 2009. In March 2009 Kardashian launched a shoe shopping service.

Kardashian was one of 13 participants on the seventh season of Dancing with the Stars. She was partnered with Current DWTS Champion Mark Ballas. Kardashian was the third contestant voted off the show on September 30, 2008, finishing in 11th place overall.
In 2000, Kardashian married music producer Damon Thomas; their relationship ended in divorce in 2004. In 2007, she began dating NFL star Reggie Bush after they met at the ESPY Awards. The couple split at the end of July 2009.
In 2007, a pornographic home video she had made with her then-boyfriend, R&B singer Ray J, was leaked. Kardashian pursued legal action against Vivid Entertainment for ownership of the tape. Kardashian later dropped the suit and settled with Vivid Entertainment for US $5 million.
Official Website:
http://kimkardashian.celebuzz.com/
Twitter:
@KimKardashian
Facebook:
http://www.myspace.com/kimsaprincess
If you want to see more of Kim Kardashian on Babepedia, you can add her to your requests by click this link:

53 users have her on their requests list.
User Uploaded Photos Of Kim Kardashian
User links
Kim Kardashian videos
No videos yet.
User comments
If I could spell the sound of someone vomiting, that is what this ugly bitch would be. Looks like vomit, smells like shit. Period.
Posted by Kardashian Krap | 2013-07-08 20:09:31 (Report)
Extremely overrated skanky bitch. Nothing to see here. Nothing worth even a first look, let alone a second look. Spoiled rotten piece of shit. Dont have any idea why this bitch is even on TV. Have never watched their shitty show, wouldnt waste the time or electricity!!! Useless bitch. And her ass is huge!
Posted by horned toad | 2013-03-09 16:43:26 (Report)
Lub dat fat ass. And dem titties aint bad edder.
Posted by Assman | 2013-03-03 03:51:51 (Report)
I'd bone her and I'd even lower myself to talk to her if she gave me some cash!
Posted by Curad | 2012-10-21 07:10:15 (Report)
No Galleries ???????? She'd damn sure Make it to the top 25 !!!!!!!!!!!!!!! C'mon .... gimme more .....................
Posted by lesbian | 2012-06-16 02:40:17 (Report)
Yes, she's an attention junkie. Yes, her show makes me believe she's a complete airhead. But, man, oh, man, what a body!
Posted by hewhois | 2011-04-19 11:26:27 (Report)
High ambition/low ability. Spoiled, opportunistic and slutty.
Posted by jackinthebeanstalk | 2011-02-23 02:48:32 (Report)
Real breasts or after-market additions?
Posted by small1sh | 2011-01-27 20:26:21 (Report)
Piece of shit..
Posted by Stevie | 2011-01-18 04:29:22 (Report)
Gross. Get this disgusting thing off here!
Posted by SunCe | 2010-11-26 18:02:09 (Report)
Babe categories
Brunette - Black (hair) - Celebrity - Big Breasts - Natural Breasts