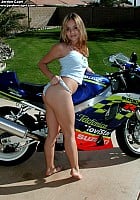 Jordan Capri
Rollover to rate this babe
Jordan Capri biography
Jordan Capri (1984) is a pseudonym for an American pornography model. Capri began her career doing nude and barely clothed on scenes together with Tawnee Stone just after turning 18 in the mid-2000s, but the website network of the Lightspeed Media Corporation from Glendale, Arizona, which she works for, still advertises her as 18. In early 2006, Jordan Capri announced her retirement from the porn industry, but returned later that year.

In September 2006, a short hardcore video clip featuring Jordan and her "newlywed husband" surfaced online. This video represents her first foray outside of the world of softcore pornography. Screenshots of an oral sex scene appeared on her Lightspeed website on October 21. On November 11, a 3 minute video of her "stolen sex tape" appeared on her website. On November 30, a screenshot was posted on the main page of her website showing vaginal penetration. On January 2, 2007 the third installment of her "honeymoon" video was released. This should ultimately be the final installment as it depicts the conclusion of the encounter.
Official Website:
http://www.jordancapri.com/
Jordan Capri
Jordan Capri galleries
Jordan Capri
If you want to see more of Jordan Capri on Babepedia, you can add her to your requests by click this link:

8 users have her on their requests list.
User links
Jordan Capri videos
No videos yet.
User comments
beautiful pussy and cute asshole
Posted by frankyfalcone | 2013-07-02 05:57:51 (Report)
she is such a sweet, young, little cutie. so pretty, and such a nice body on her. plus I want to say that I think she does a great job at wearing the shortest skirts. when she is wearing skirt I wonder panties or no panties? but I admit I like both possibilities. Jordan is such a great girl. I love her work.
Posted by big boy on gallery 256 | 2013-04-28 22:51:01 (Report)

Posted by riyyyyyyyyyyyyyyz | 2012-09-19 06:46:56 (Report)
i like the girl

Posted by anonymous on gallery 256 | 2012-06-12 07:57:38 (Report)
so un professional
Posted by ryan6 on gallery 256 | 2012-04-07 08:55:46 (Report)
"Jordan Capri (1984) is a pseudonym for an American pornography model. Capri began her career doing nude and barely clothed on scenes together with Tawnee Stone just after turning 18 in the mid-2000s" >2002 >mid-2000s
Posted by wat | 2012-03-08 12:28:02 (Report)
Jordan is free! f2bbs.com/bbs/show_topic/419149/
Posted by pud | 2011-12-22 12:14:43 (Report)
beautfull woman and would love to meet her and do her
Posted by doug | 2011-08-27 08:31:44 (Report)
RE: Gaslight Andy, if you got vids of her doing that then post links if not then stfu.
Posted by Anon on gallery 256 | 2011-05-19 11:01:36 (Report)
She's actually in prison right now. You can search the Arizona Department of Corrections website for inmate 219372.
Posted by todd | 2011-05-08 17:55:43 (Report)
her real name is lori manna
Posted by matt atherley | 2011-05-03 21:43:01 (Report)
the cutest girl/woman next to my ex-gf I've ever seen
Posted by anonymous on gallery 256 | 2011-02-08 08:20:33 (Report)
I wouldn't turn down sucking those tits and fucking that puss.
Posted by anonymous on gallery 256 | 2010-04-05 12:47:32 (Report)
FINE 24 0LD CHICK I WOULD DO
Posted by TMARTINEZ79 on gallery 256 | 2010-03-04 10:42:59 (Report)
i bet she is soooooo tight
Posted by anonymous on gallery 256 | 2009-06-19 19:05:24 (Report)
What a cutie!
Posted by gks68 | 2009-06-14 15:39:28 (Report)
very hot babe
Posted by adel | 2009-02-02 03:07:09 (Report)
Another young looking hottie,me like her.
Posted by SL-II on gallery 256 | 2009-01-29 19:28:45 (Report)
R U Virgin.......If U r A virgin....Than i want to try u....if u dont mind..
Posted by anonymous on gallery 256 | 2009-01-27 09:21:03 (Report)
Women don't get much better looking than this...
Posted by CallMeJoe | 2008-10-30 09:05:01 (Report)
Babe categories
Brunette - Pornstar - Natural Breasts