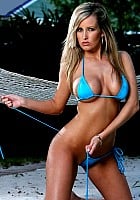 Jessica Barton
Rollover to rate this babe
Jessica Barton biography
Birthdate: Saturday 28th of May 1983
Age: 29 years young
Height
5' 5" (1.65 m)

Buxom, shapely, and luscious blonde bombshell Jessica Barton was born on May 28, 1983 in Orlando, Florida. She has a fraternal twin sister named Jennifer. Barton grew up in a quiet beach town in Florida. Jessica graduated from Cocoa Beach High School in 2000. The green-eyed blonde began her modeling career working as a make-up artist for a few photographers. Barton has graced the covers of such publications as "Show," "Axis," "Makes and Models," "Superstreet," and "Supreme." Among the magazines Jessica has done pictorials for are "FHM," "Modified," and various "Playboy" newsstand special editions. Barton has not only appeared in a handful of regional Florida TV commercials, but also has acting roles in the lowbrow comedy "The Fiesta Grand" and the tongue-in-cheek horror romp "Zombies! Zombies! Zombies!". Outside of acting and modeling, Jessica is also a hardcore car aficionado.
Official Website:
http://www.jessicabarton.com
Jessica Barton galleries
Jessica Barton naked in the sand
Jessica Barton in photo mix containing fully nude shots
Jessica Barton stripping naked at outdoor shack
Jessica Barton taking off blue dress, but not her thong
Jessica Barton in light purple lingerie in bathroom
Jessica Barton posing naked by set of silver rims
Jessica Barton taking off thong and posing nude in hallway
Jessica Barton naked playing in the sand
Jessica Barton in turquoise thong covering her breasts
Jessica Barton taking off blue bra in bedroom
Jessica Barton in shiny, tight leather top and panties
Jessica Barton in red lingerie and long black leather boots
Jessica Barton posing topless
Jessica Barton getting naked under moquito net
Jessica Barton getting topless on the beach
If you want to see more of Jessica Barton on Babepedia, you can add her to your requests by click this link:

27 users have her on their requests list.
User links
Jessica Barton videos
No videos yet.
User comments
Hi
Posted by Gjoni on gallery 352426 | 2013-03-21 18:16:24 (Report)
id pee in Jessicas butt...then id Ram my big black cock in her tight lil pussy with no KY...white girl would love the big black dick
Posted by anonymous on gallery 351753 | 2013-03-08 13:24:54 (Report)
If I came across her alone on the beach like this I would capture her and take her home with me and keep her as my sexslave. I would never let her wear any clothes and train her to suck my cock on command. Whenever I got hard I would bend her over and pump her tight little ass long and hard without so much as a please or thank-you. She has no choice but to submit to regular assfucking because she belongs to me now and that butt was just made to be spanked fucked and filled with cum.
Posted by anonymous on gallery 352947 | 2013-03-03 23:17:32 (Report)
Saw you in a magazine in Iraq in 2009 & have been a fan ever since.
Posted by Joe on gallery 350884 | 2013-02-05 04:49:27 (Report)
what a nice innie pussy!!!
Posted by bullgott on gallery 352818 | 2013-01-14 04:36:17 (Report)
SIMPLY---------------BEUTIFUL...
Posted by anonymous on gallery 350884 | 2013-01-10 22:01:47 (Report)
SHE IS (SIMPLY---------BEUTIFUL)---.
Posted by loosescrew57 | 2013-01-10 21:53:05 (Report)
you are 1 hot babe you would look great on my harley

Posted by tommytig on gallery 351139 | 2013-01-08 05:03:44 (Report)
Why were they deleted!
Posted by anonymous on gallery 351139 | 2013-01-08 01:16:56 (Report)
Sexy ass bitch
Posted by anonymous on gallery 350884 | 2012-09-13 13:56:33 (Report)
Ummm and the pics are where?
Posted by anonymous on gallery 352426 | 2012-08-15 20:52:43 (Report)
Yep, I'd nail it.
Posted by Kareem Mahjeans | 2012-05-28 19:32:43 (Report)
Fabulous girl who can do great as a nude model if she isn't afraid to do full, explicit, SOLO nude posing.
Posted by jackinthebeanstalk | 2011-05-21 03:17:03 (Report)
Nice lovely sexy lady.Fantastic body.
Posted by anonymous | 2010-09-27 15:09:58 (Report)
Babe categories
Blonde - Natural Breasts